The USAC E-rate News Brief released September 21, 2023 explained the following program updates for FY2024 for all applicants. Cost Allocations The FCC provided guidance on a number of cost-allocation calculation issues that applicants find challenging such as allocations to exclude costs associated with minimal ineligible use or service components. For all schools and libraries: • If at least 90% of an applicant's requested Internet service is being used for eligible purposes, the remaining ineligible use (e.g., occasional office use) of the Internet service will be presumed to be ancillary and cost allocation is not required. • Expenses associated with cabling ("drops" or "jacks") that is primarily being used to provide broadband connectivity within schools and libraries does not require cost allocation, provided it is the most cost-effective means of receiving the eligible service. The eligibility determination should be based on the purposes of the network as a whole if the network is primarily serving an eligible purpose (i.e., distributing broadband throughout a school or library building). • For non-instructional facilities (NIFs), including library administrative buildings, that share equipment (e.g., a district switch) with a school or library, the applicant does not need to cost allocate for the NIF's use if it is choosing the most cost-effective offering for the shared equipment. Urban/Rural Designation Update The Urban or Rural Status of an entity (school or library) in the E-Rate program is guided by the U.S. Census Bureau's delineation. FCC rules require USAC to use the Census Bureau's most recent rural-urban classification. For FY2023, this was based on 2010 Census data. USAC is in the process of updating the urban-rural classifications for FY2024 based on 2020 Census data. After USAC updates the rural-urban classifications using the 2020 Census data, a small percentage of applicants may notice that their urban/rural designation has changed. We will provide more information in the next issue of the News Brief

FY2024 Draft Eligible Services List Released On September 12, 2023, the Federal Communications Commission issued a Public Notice seeking comment on its proposed Eligible Services List (ESL) for Funding Year 2024. The draft ESL contains only minor changes from the current funding year. Apart from the clarifications regarding software for Category One equipment and consulting fees, the Commission did not propose adding or removing any products or services from the Eligible Services List. Comments to the proposed ESL are due on October 12, 2023, with reply comments due October 26, 2023.

CYBERSECURITY PILOT PROGRAM PROPOSED BY FCC- On July 12, 2023, Federal Communications Commission Chairwoman Jessica Rosenworcel announced a proposal for a three-year, $200 million pilot program to support cybersecurity for K-12 schools and public libraries. • The proposal itself is for up to $200 million over three years "to harden the cyber defenses and determine the most effective methods to protect our schools and libraries." • The pilot program will "work in tandem with federal agency partners that have deep expertise in this area," which presumably means the Cybersecurity and Infrastructure Security Agency (CISA). • The proposal would establish the pilot program within the Universal Service Fund but separate from the E-Rate program "to ensure gains in enhanced cybersecurity don't come at a cost of undermining E-Rate's success in promoting digital equity." • The proposal will require a full vote of the Commission, with the full text of the proposal only released upon its adoption. The date for a vote on the proposal by FCC Commissioners has not yet been announced.

SUMMER DEFERRAL In its May 2023 News Brief, USAC announced that their "summer deferral" period started on Friday, May 26. USAC had this to say about the process: Starting May 26, if our first attempt to contact you is on or after May 26, and we do not receive a response to our questions, we will put your application on a deferred status and will continue the review of your application sometime after September 9. This is known as our "summer deferral period," which extends from the Friday before Memorial Day (i.e., May 26, 2023) through the Friday following Labor Day (i.e., September 8, 2023). During this period, please note: • You can always contact us or respond to our pending questions to restart the review of your application if you become available before September 9, and we encourage you to do so to expedite the review of your application. • If the PIA reviewer has already contacted you and you wish to designate someone to answer questions in your absence, be sure to send your designee's contact information to your PIA reviewer. If the PIA reviewer has not contacted you and your designee will be checking your messages, be sure that you have provided written authorization for your designee to answer questions about your application. If the PIA reviewer makes contact with someone representing your organization but that person is not in a position to answer PIA questions, they should clearly state to the PIA reviewer that the review of your application should be put on hold until you are available

USDA Comments Support Lower CEP Threshold The U.S. Department of Agriculture ("USDA") has proposed reducing the minimum Identified Student Percentage ("ISP") required for participation in the Community Eligibility Provision ("CEP") program from 40% to 25%. As of the public comment deadline last week, USDA had received over 10,000 comments supporting the proposed change. An important individual letter of support came from the Committee on Education and the Workforce of the U.S. House of Representatives, cosigned by the Ranking member of the Subcommittee on Early Childhood, Elementary and Secondary Education. The Committee not only supported lowering the ISP percentage but also expressed the hope that Congress would act to increase the current 1.6x multiplier. Industry experts fully expect USDA to lower the ISP threshold as proposed; the question is when? Comments filed by the New York State Education Department ("NYSED") encourage USDA to effectuate the change for the upcoming 2023-2024 school year. That could best be done by waiving the July deadline for new CEP applications.

FCC Extends Certain ECF Service Delivery Deadlines Late last Friday, the FCC issued a Public Notice (DA 23-406) and an Order (DA 23-405) waiving and extending the service delivery deadline for certain ECF applicants that did not receive (or have not yet received) funding commitments and/or approvals of appeals, waivers, and post-commitment changes early enough to take full advantage of their funding under previously existing deadlines. The new service delivery deadlines vary by filing window and type of service that may require further clarification. With the COVID-19 public health emergency having expired last Thursday, no ECF service delivery deadline will go beyond June 30, 2024. In summary — and with the recommendation that the Public Notice and the Order both be read in detail — the most important service delivery and invoice deadlines are as follows: • Applicants in Windows 1 and 2 that received an FCDL or RFCDL approving support for services (not equipment) on or after July 1, 2022, have a service delivery deadline of June 30, 2024, or fourteen months after the date of the letter, whichever is sooner. • Applicants in Windows 1 and 2 that received an FCDL or RFCDL approving support for equipment on or after January 1, 2023, have a service delivery deadline of 180 days from the date of the letter, but not to exceed June 30, 2024. • Applicants in Window 3 for all services and equipment have a service delivery deadline of June 30, 2024. • The service delivery date for approved recurring services associated with a new construction funding request is extended to June 30, 2024, if the FCDL or approved RFCDL for the new construction services was received on or after July 1, 2022. However, no changes are made to the service delivery deadlines for special construction (i.e., no extension or waiver of the current one-year deadline to complete the special construction services from the date of the FCDL.) • The invoicing deadline remains 60 days from the FCDL, RFCDL, or service delivery deadline, whichever is later.

UEI Required Beginning May 12 for Applicants that Update or Submit New FCC Form 498 On April 6, 2022, the FCC released a Public Notice (DA-22-371) announcing that the General Services Administration's SAM.gov will transition from the use of the Data Universal Numbering System (DUNS) number to the SAM.gov assigned Unique Entity Identifier (UEI). In the September 15, 2022 E-Rate News Brief, USAC announced that all service providers receiving funding through the universal service programs will be required to obtain and use a UEI when making changes to their existing or submitting a new FCC Form 498. On May 12, 2023, USAC will update the FCC Form 498 for all E-Rate applicants to require entities to have an active UEI to submit a new FCC Form 498 or to modify their existing FCC Form 498 if they will be using the BEAR method of reimbursement. The update of the FCC Form 498 will affect E-Rate applicants that must submit a new FCC Form 498 or revise their current FCC Form 498, after the May 12, 2023 deployment date.

Support for E-rate Cybersecurity Funding Continues: Replies to the FCC's requests for comment regarding E-rate support for next-generation firewalls and other cybersecurity services show that applicants, service providers, consultants, and industry groups are in agreement – support for network security is a necessity, and it is urgent. Many of the initial comments highlighted the adequacy of the E-rate program's funding cap and Category Two funding mechanism to support these vital services. Some comments received: • As the world and our schools become increasingly reliant on technology and the internet, best-in-class cybersecurity infrastructure in school districts is imperative to ensure the safety and security of our students and staff. • When ransomware closes schools, it has a ripple effect, damaging state and federal funding criteria, and erodes public trust. • Because cyberattacks pose a serious threat to the continuous delivery of the broadband connectivity E-rate is designed to provide to schools, these changes would protect our investments. • Cyberattacks pose a serious threat to the continuous delivery of the broadband connectivity E-rate is designed to provide to schools. Let's hope that these comments from a wide array of stakeholders in the industry will have the needed effect to pivot the Commission's previous stand on E-rate funding for cybersecurity.

Invoice Systems Consolidation The long-awaited plan to consolidate the historically separate BEAR and SPI invoicing systems into the E-Rate Productivity Center ("EPC") is expected to take place in the May/June timeframe. Prior to this occurring, USAC will announce the last date to submit invoices within the legacy system and the first date to begin submitting invoices within EPC. In the interim, invoice submissions will be paused to ensure a successful transition. As a preliminary transitional step, USAC has already migrated user invoicing permissions from the legacy BEAR and SPI invoicing systems into EPC. EPC Account Administrators are encouraged to review assigned BEAR (for applicants) and SPI (for suppliers) user permissions to make sure that the correct users have access to prepare and/or certify invoices. Once invoicing is transitioned to EPC, the following changes will be noticed: • Notifications about invoice submission statuses will be delivered to the users' News Feeds. • USAC inquiries about submitted invoices will be made available through EPC. User replies, including attached documentation, will also be made through EPC. • Invoicing for FY 2015 and earlier years cannot be handled through EPC. Users needing to submit invoices for these earlier funding years are advised to file customer services cases (through EPC) to request instructions for handling such invoices.

The Universal Service Administrative Corporation (USAC) Schools and Libraries Division has announced the E-rate Funding Year 2023 application filing window will open on Wednesday, January 18, 2023, at 12:00 noon ET and will close on Tuesday, March 28, 2023, at 11:59 p.m. ET. The E-rate Productivity Center (EPC) Administrative Window will close January 16, 2023. Proceed With Competitive Bidding – If you have not started the competitive bidding process by filing your FCC Form 470, please begin now. Remember that you must wait at least 28 days after filing the form before entering into an agreement with your selected service provider(s) and filing your FCC Form 471 application(s). View the E-Rate Pre-Commitment Process webinar on the Webinars page. Go to the Eligible Services List page for guidance on the eligibility of products and services for FY2023.

Installation Deadline Waiver Granted by FCC On September 19, 2022, the Federal Communications Commission issued an Order granting a waiver and extension of the service delivery deadline for Funding Year 2020 and 2021 non-recurring funding requests which have a current deadline of September 30, 2022. Responding to a request from the Schools, Health & Libraries Broadband Coalition (SHLB), the Commission noted that "there is good cause to waive and extend the upcoming September 30, 2022 non-recurring service implementation deadline" due to "the continuation of global supply chain delays and its impact on the timely delivery and installation of applicants' E-Rate-funded equipment and services." The FCC's waiver and extension does not apply to Funding Year 2020 requests which currently have a deadline of September 30, 2021. In its decision not to make the waiver retroactive, the FCC notes that their "waiver standards are not met to provide a blanket extension for all funding year 2020 non-recurring service requests nearly one year after this deadline has passed. If there are special circumstances, these applicants may file a waiver request for these funding year 2020 non-recurring services that were required to be implemented by September 30, 2021."

ECF News: Service Delivery Date Extension Order The FCC's Wireline Competition Bureau issued an Order (DA 22-176 ) waiving and extending the service delivery date from June 30, 2022 to June 30, 2023 for all applicants who applied for Emergency Connectivity Fund support for equipment, other non-recurring services, and recurring services during the first and second application filing windows. This means that applicants will be able to receive Emergency Connectivity Fund support for the full requested twelve months of service, or for connected devices or other eligible equipment delivered by June 30, 2023.

On January 28, 2022, several stakeholders submitted an Ex Parte to the FCC urging the Commission to make revisions to the Emergency Connectivity Fund program and the E-rate program. One of the recommendations the groups proposed was that the FCC open a third filing window in the spring of 2022 to allocate the remaining $800 million available for additional support. They noted that, "…the new spike in COVID cases due to the new 'omicron' variant means that the need for broadband connectivity for students at home remains strong. …Opening a third funding window this spring would give schools and libraries the opportunity to obtain additional funding needed to continue engaging in online instruction to students and patrons in need. Further, some schools and libraries that were unfamiliar with the ECF program last year would have an opportunity to apply for ECF funding going forward." Other recommendations the stakeholders recommended included: Extend service delivery deadline to June 30, 2023 Extend the gift rule to coincide with the extended service delivery deadline Reconsider record-keeping requirements with respect to library applicants Waive the cost allocation rule in the E-rate program

FY 2022 Application Window The FY 2022 Form 471 application window will open on Wednesday, January 12, 2022, at 12:00 noon EST and will close on Tuesday, March 22, 2022, at 11:59 p.m. EDT. Applicants are reminded to update their EPC entity profiles before the close of the Administrative Window on January 10th at 11:59 p.m. EST. Once the Administrative Window is closed, entity profiles will be locked for the duration of the application window.

Season's Greeting from InterMountain E-rate!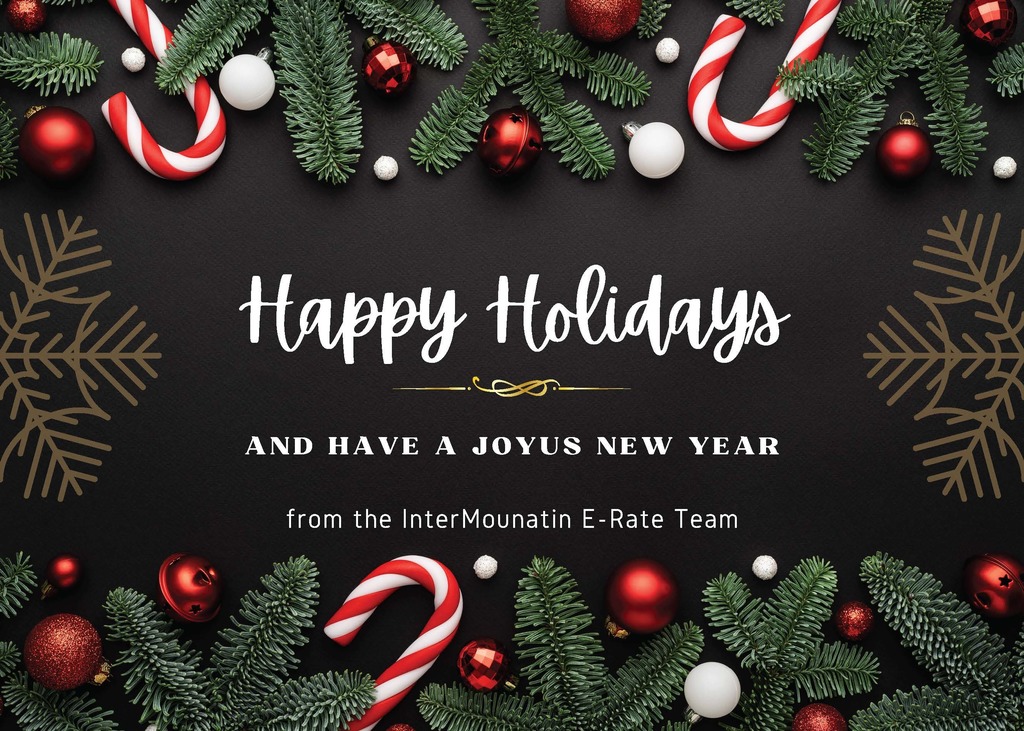 Emergency Connectivity Fund Update June 25, 2021 A recently released PDF by Connect K-12 has nicely summarized rules, FAQs and supporting documentation and certifications required.
https://5il.co/unus
. You can also find this on our Documents page under "Explore" at the top of this page. We hope you find this helpful.

Emergency Connectivity Fund Update June 4, 2021 Over the last few weeks, many have asked about the eligibility of future purchases of chromebooks in regards to schools being back open to in-person learning this Fall. We've attended various webinars regarding the ECF, and have compiled more clarification we'd like to share. • Devices must be dedicated to a student to close the "homework gap". Cannot be dedicated to on-campus use (in a classroom, on a cart). • Back and forth to campus okay. Does the student lack a connection or device to work remotely? • Is the current device sufficient for a student to learn remotely? Example: Does it have a camera? Can they have a virtual meeting open and still conduct work on their device? (this would justify replacement/rotation schedule) • No minimum number of days learning "virtually". • Okay to order now for delivery after July 1st. • Okay that schools are open to full-time in-person learning this Fall • No stand-alone licensing/software. Whatever is included in cost when ordered okay. • Devices must be kept 3 years and asset tracking essential. Documentation kept 10 years. • This funding is not guaranteed, nor does it have to be used. Like Category 2 funds, if you get a funding commitment and then decide not to use it, it can be returned to the program. We hope this information will help you in deciding whether or not you will be filing for the ECF.

With the release of the ECF rules on May 11, 2021, hundreds of questions are swirling. Here are the answers to the most commonly asked:
https://5il.co/swnb

The Emergency Connectivity Fund (ECF) is a new, $7.1 billion initiative, included in the American Rescue Plan passed by Congress in March 2021, that will provide funding for K-12 public and nonpublic schools and libraries nationwide to buy laptops, tablets, Wi-Fi hotspots and broadband connections to help students, teachers and library patrons access the Internet while off-campus. On May 11, 2021, the FCC released their final rules related to ECF which are available at:
https://docs.fcc.gov/public/attachments/FCC-21-58A1.pdf
. The 45-day application window is slated to begin in mid-late June and will cover eligible purchases made between July 1, 2021 – June 30, 2022.

Senator Support E-rate Remote Learning On February 4, 2021, U.S. Senators Edward J. Markey (D-Mass.) and Maria Cantwell (D-Wash.) sent an open letter to FCC Acting Chairwoman Jessica Rosenworcel calling on the FCC "to take long-overdue action and utilize the E-rate program to start bridging the 'homework gap' without delay." Signed by a total of 37 Senators, the letter asserts that E-rate is "an essential source of funding to connect the nation's schools and libraries to the internet," and that its statues do not "preclude the FCC from freeing funds to connect students' homes during the current crisis."